Find the right
blood pressure medication
using your DNA.
---
Hypertension is the leading preventable cause of death in the world.
Geneticure's patented test uses a sample of your DNA to recommend a personalized treatment plan, just for you.
Using the DNA on a cheek swab, Geneticure recommends which hypertension medication(s) may give you the biggest drop in blood pressure:
Fewer prescriptions.
Fewer office visits.
Less trial-and-error.
---
Your body is unique. Doctors don't know if a blood pressure medication will work until you try it. If it doesn't work, they might add or try another. This trial-and-error costs time and money. Some medications can even make your blood pressure go up.
Geneticure's test looks at 17 genotypes and 11 genes* to determine how your body responds to each medication. Your personalized report helps your doctor prescribe the right medication from the start.
Read our research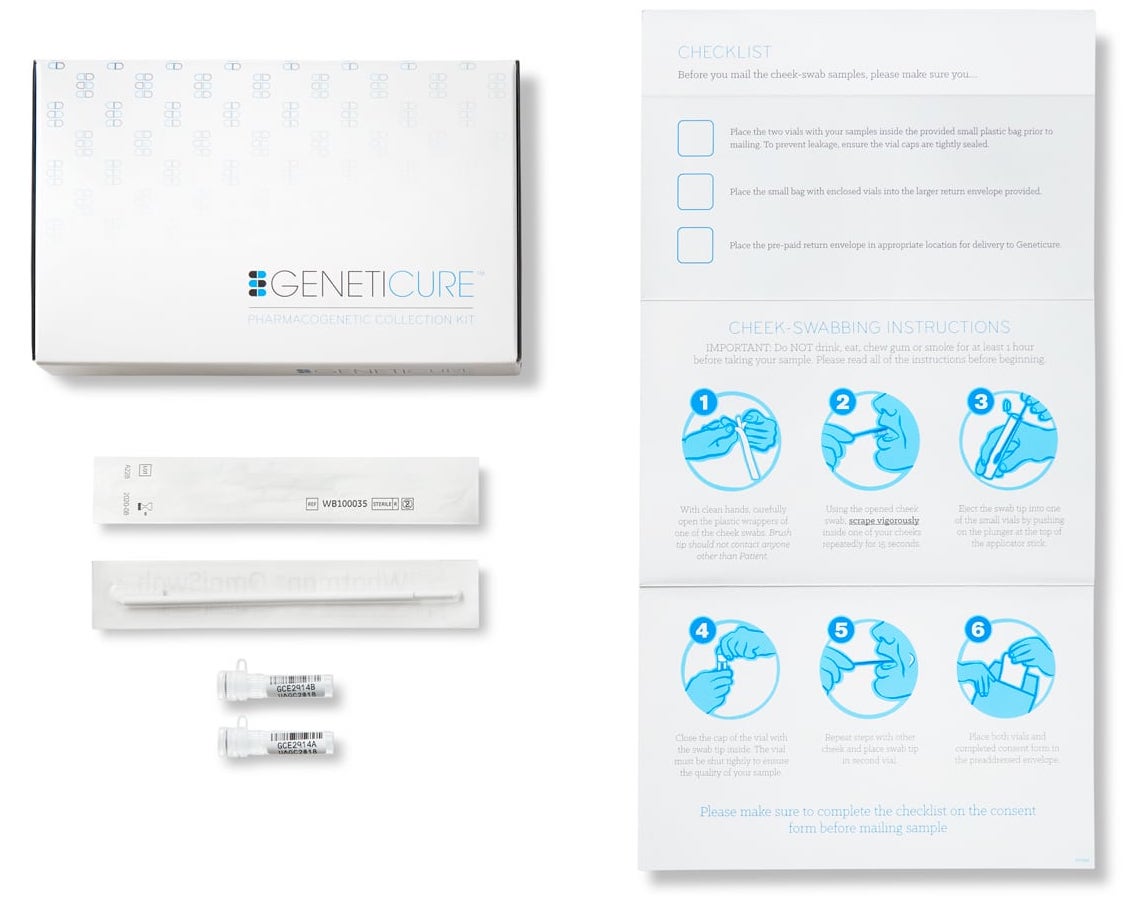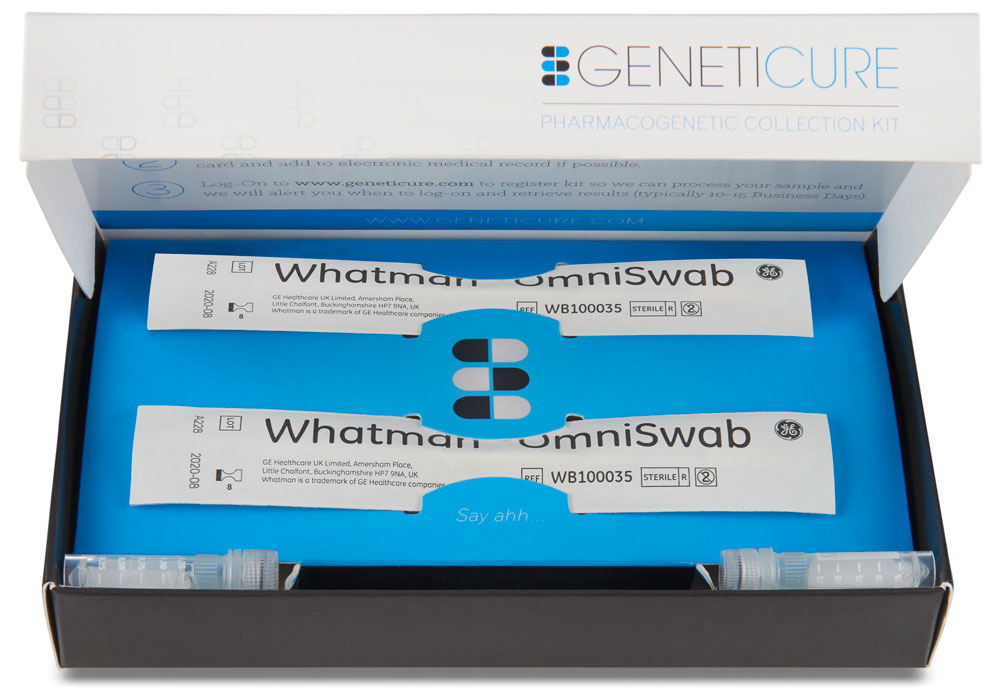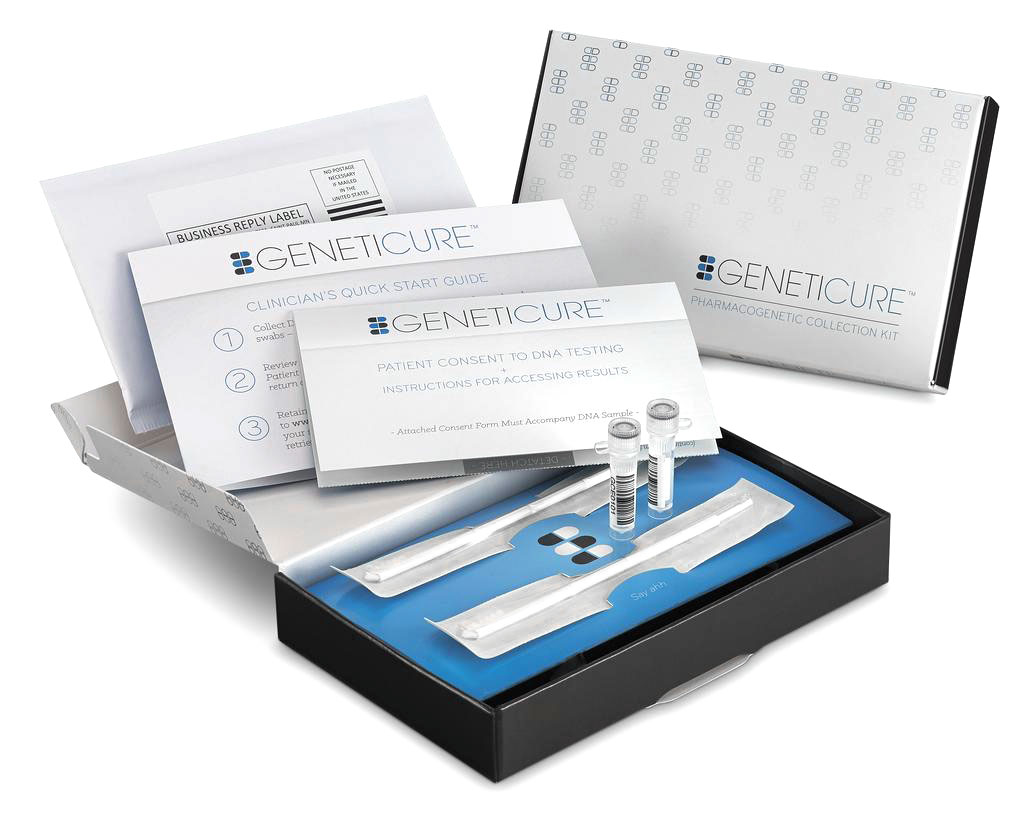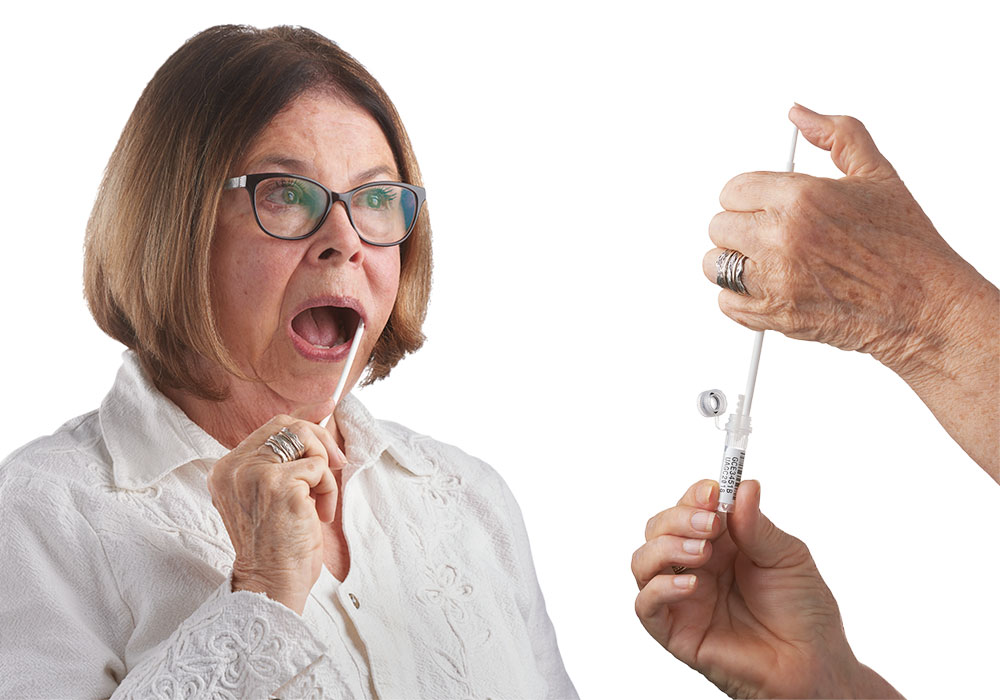 What our patients say:
I had my hypertension under control, but my medication went off the market. Soon I was in the emergency room. I remember my systolic blood pressure was 210. The doctors worked together to come up with a cocktail of drugs that was like the medication I used to take, but it didn't seem to work. A coworker recommended the Geneticure test. It showed that the new medication was my best choice, which made me feel like I was on the right track. Now I have good blood pressure again.
I went to the ER for an unrelated issue. When I arrived my blood pressure was 181/96. I asked them to dose my Geneticure recommended therapy, which they did through an IV. My blood pressure dropped to 139/66 within 2 minutes.
It came on suddenly at work. My co-workers tried to use an automatic blood pressure cuff but it kept saying "ERROR." By the time the ambulance came my numbers were 240/160. Many medications, doctors, nurses, and days in the hospital later, I had more questions than answers. I took Geneticure's test. It recommended a medication we hadn't tried. My doctor prescribed it immediately, and it worked. Now when I take my blood pressure every afternoon it's usually 120/80.
I started with ACE inhibitors and it worked for a bit. When it stopped, my doctor increased the dose. It still didn't work consistently, so my doctor added a calcium channel blocker at a high dose, but that didn't work any better. My sister had a Geneticure report. I showed it to my doctor. He followed its recommendation and prescribed the same beta blocker as my sister. It started working right away. My sister and I believe in the work that you are doing and I love the way I feel!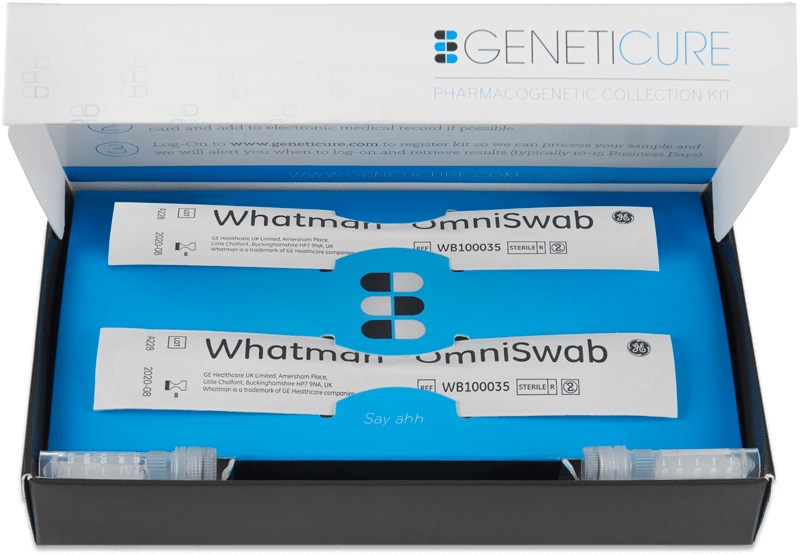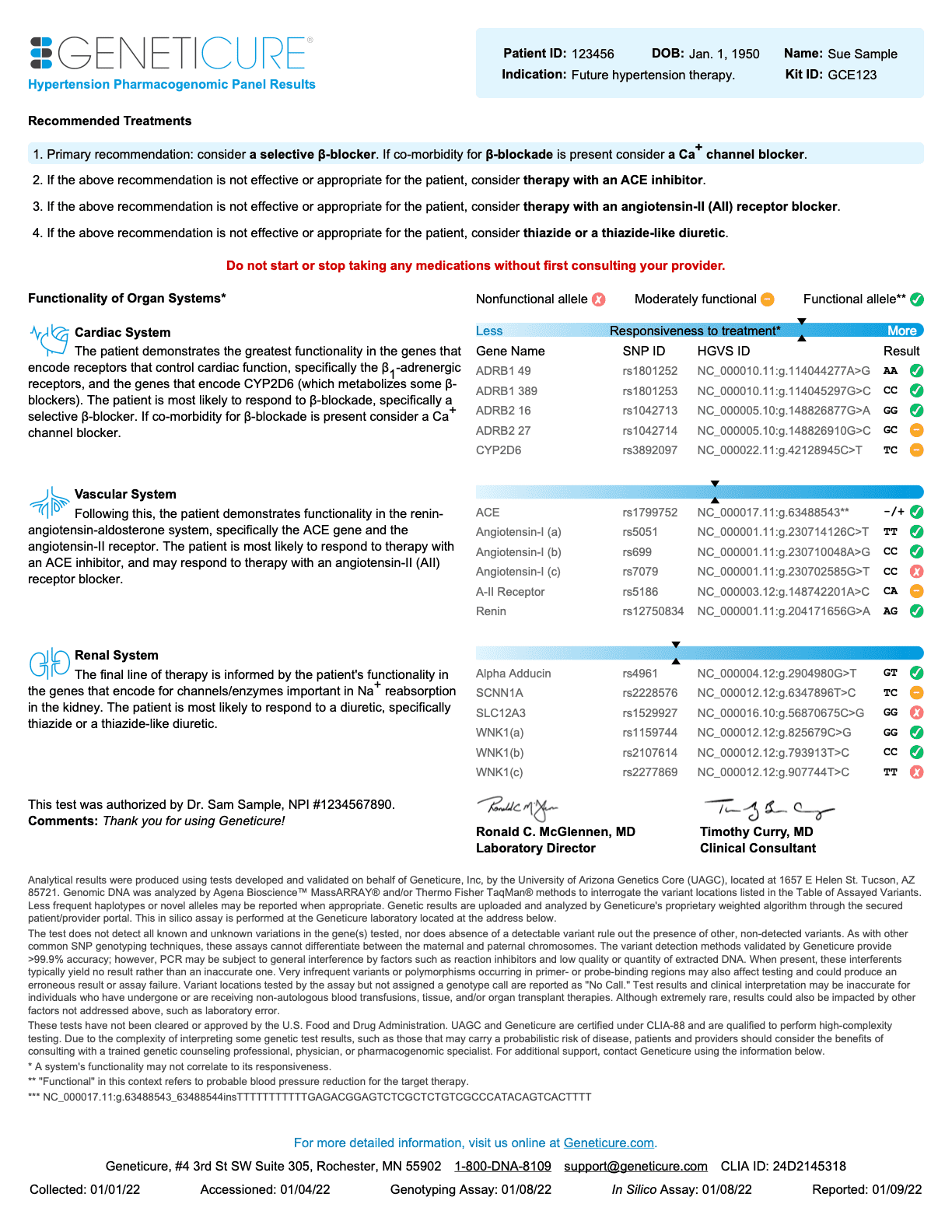 What's in my report?
---
Different blood pressure treatments target different systems in your body. Your DNA can predict which system is most likely to respond to treatment. Your Geneticure report describes the responsiveness of 3 of your body's main organ systems:
Cardiac system

Controls how hard and fast your heart beats

Vascular system

Controls the tightening of blood vessels

Renal system

Controls the absorption of sodium and water in your kidneys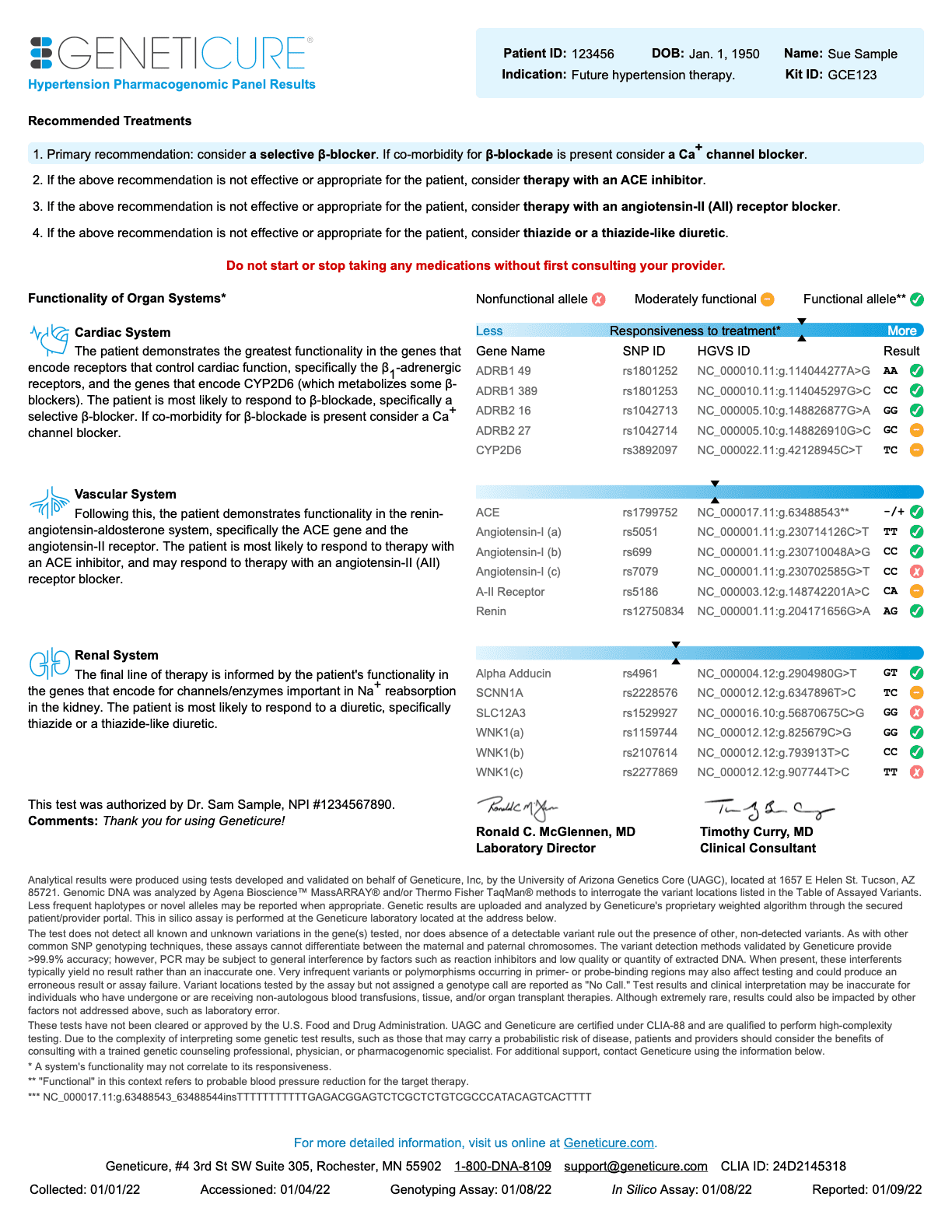 Who is Geneticure?
---
We're a team of hypertension expert scientists and doctors based in Rochester, Minnesota, home of the Mayo Clinic — which is also an investor in Geneticure. For 10 years we've put science and innovation to work, taking personalized medicine to the next level, unmatched in the world of pharmacogenomics. Contact us.
More things we're working on: